Amanda Kaminski on Using ZenSupplies, Multi-Vendor Management, and Being Successful in the Dental Office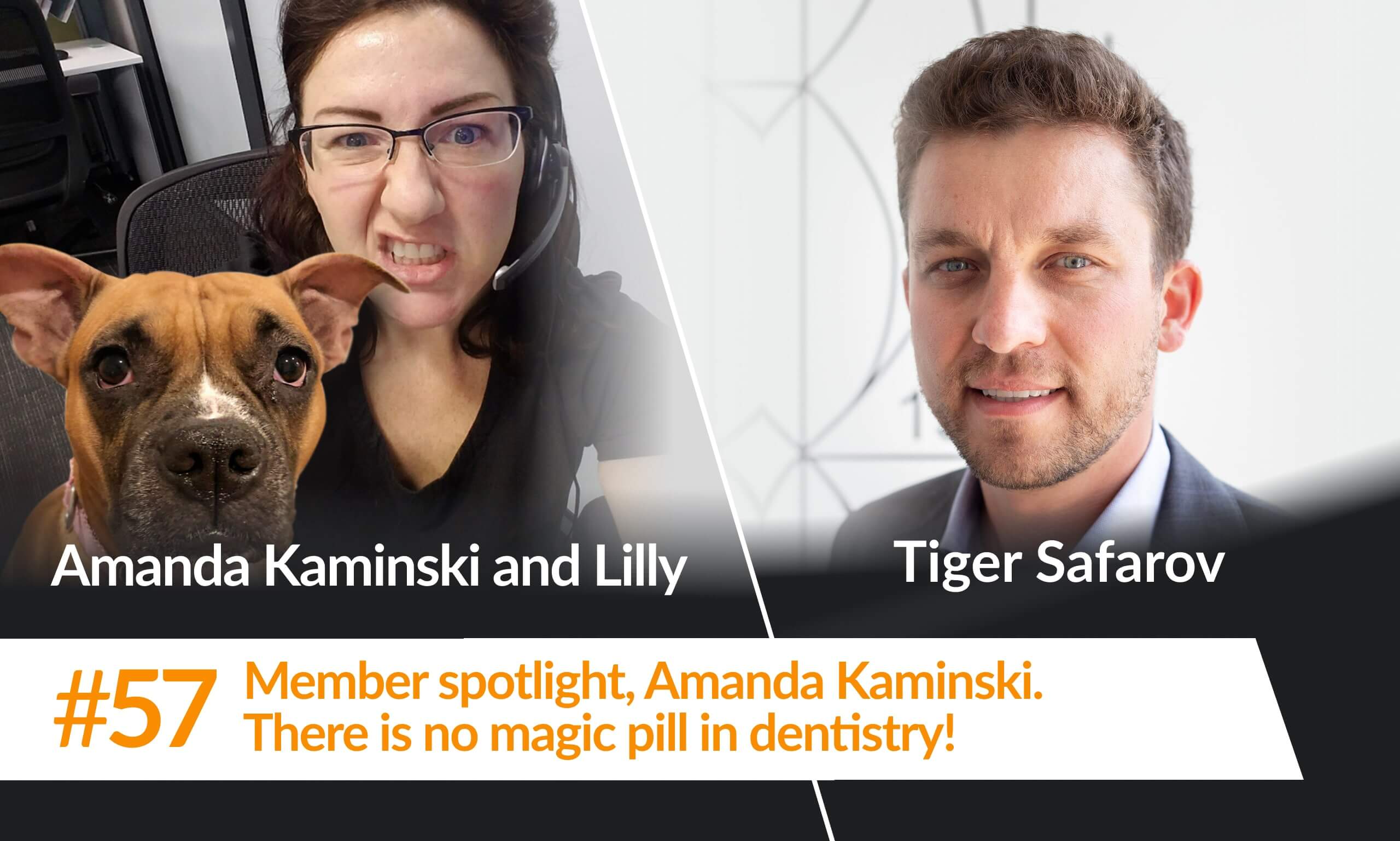 Amanda's Background
Amanda is the facility and supply manager at Bubon Orthodontics, where she also handles treatment coordination remotely. She began her journey in the dental field after participating in a high school co-op program, which led to a job as a sterilization technician in a dental office. Amanda initially pursued massage therapy after graduation but returned to dentistry as a dental assistant to pay her bills. She later landed a job at Bubon Orthodontics as an assistant in the clinic, where she has worked for over 15 years. Amanda's role has evolved over time, and she now manages the facility and supplies while taking consultations remotely. Her experience in various roles within the dental field has provided her with an understanding of how practices operate and the skills needed to perform a variety of tasks to be successful in the dental office.
Challenges with ordering from multiple vendors
Amanda Kaminski had been responsible for ordering supplies for her workplace for over a decade, dealing with multiple vendors and different methods of ordering. It was a task that required time and effort, but she managed to keep up with it. However, when the pandemic hit and her workplace had to adapt to new protocols, Amanda began to feel the strain of her job even more. Around that time, Amanda learned about ZenSupplies, a platform designed to simplify the ordering process by consolidating all vendors in one place. She discussed it with her boss, Dr. Bubon, who initially hesitated but eventually gave in to Amanda's persistent request to try ZenSupplies.Once they implemented the platform, Amanda immediately noticed the efficiency it brought to her job. With ZenSupplies, she no longer had to juggle multiple vendors and different ordering methods. The platform streamlined everything, making it easier and faster to place orders. Moreover, with other members of their team now onboard, it helped improve communication and ensured everyone was on the same page. Now, several months later, Amanda and her team have increased the number of locations they had from twelve to fifteen. Overall, Amanda says ZenSupplies has become an essential tool in their workflow, helping them save time and effort.
Watch full interview with Amanda, where she shares her insights and experiences in managing inventory for a dental practice here: https://youtu.be/Z7_V8cDImMg
Listen to the podcast:
Read the full transcript from the interview with Tiger and Amanda:
Tiger:
Do you remember the first time you had to negotiate with a vendor? Were you nervous?
Amanda:
A little bit. Negotiating fees and seeing my grandparents do it every weekend during their rummages helped me grow up with it. However, you don't want to be rude by asking for something as it's the value of a thing. The best approach is to navigate slowly and ask questions, especially if it's a newer relationship. Keep respect in mind and ask if they ever negotiate prices or create a formulary. It's a partnership, and you're both looking out for each other's best interests. Opening a communication and seeing how they respond is often helpful.
Tiger:
Interesting. Why do you think people are intimidated to ask for a discount?
Amanda:
Financials are sensitive, and money is always a motivating factor in people's way of going about things, especially in business. It's important to approach the topic respectfully.
Tiger:
Can you share how you manage the relationship with your vendor?
Amanda:
My Dynaflex rep and I have known each other for at least a decade now. We talk about our private lives and email things, but it's essential to keep in mind that they have something you need, and you have something they need. It's a partnership, and you're both looking out for each other's best interests. I try to be responsible with what I have and ask for some sort of agreement where we can do a flat discounted rate or negotiate part for part. They often have some sort of internal setup, like if you have this many practices, this is the discount you get. It's often already set up, and you just need to open the door.
Tiger:
It's always an interesting conversation because it's happened to us a couple of times with Zen. I constantly watch expenses and never let a credit card statement go without looking at it. Occasionally, when I switch services, I look into the rep's eyes and say, "I think I know what you're thinking," and they nod. We work with each office individually, but we've seen how it happens with DSOs since it's that model. When Amanda signed up with 12 offices, I trusted her and made sure with support we were onboarding all 12 at the same time. Amanda, how did you get the team on board with the implementation?
Amanda:
I did a big training session with all of them, and I gave them a few months to get their feet wet before using the required and on-hand amounts. It's a really nice software, and I found it simple to say what we need. I did a lot of the initial organization and then showed the staff how to use it, gave them different suggestions, and expected them to meet my standards. Our staff is set up for changes a lot, and we just roll with it and learn. People don't like change, and that's especially true in dentistry, where offices can be behind the times.
Tiger:
That's interesting. We try to have relationships with general dentists and referring doctors, but we see offices stuck in the same couple of decades, still doing a good job but a little bit behind the times.I could teach a course on this topic alone. I've noticed that ortho offices are slightly different from GPS offices in that they are accustomed to change and the fast-paced nature of the office. When I speak to dental assistants who have worked in ortho, they tend to have a different mentality. I'm not saying it's better or worse, it's just different. This ability to adapt to change is unique to ortho offices because it doesn't happen often enough. Many people still use Eaglesoft, Dentrix, or GPS simply because they don't see a reason to change. However, I believe in constantly changing and trying new things. Recently, I was pleased when a new team member joined Zen after an interview with one of our oldest staff members. The candidate was told that the only constant at Zen is change, and she was ready for it. We've had employees who have criticized me for changing things and changing my mind during exit interviews. However, looking back over the past seven years, I believe that constant change has kept us alive. I give credit to Dr. Bubon for having the courage to embrace change, as well as a solid team by our side.
Amanda:
I agree. Dr. Bubon has learned a lot over the years about what to bring to the table for discussion and what to implement regardless of the response. He's usually good about his delivery, and he has a great team. He knows how to pick his battles and get things done. He values employee retention and works to keep staff members around.
Tiger:
Employee retention is an important topic. If the average time for employees to stay with a team is seven or eight years when the business is ten years old, it's not just luck. It's important to have conversations with each team member about their growth, challenges, and salaries to ensure they feel valued and are encouraged to stay. It's not just luck that they love working at the company, but rather constant conversations and efforts to keep them. Do you agree?
Amanda:
In my opinion, I believe it's crucial to have a certain level of stimulation and engagement ещ be successful in the dental office. I enjoy being busy and having a diverse range of responsibilities. This is what has worked for me and kept me here. Although, I don't want to speak for everyone because different people may have different needs. However, I think it's important to be willing to adapt and create positions or infrastructure when needed. This is particularly important in smaller companies or teams where it's easier to stay personal. As for larger companies, it's important for leadership to be more engaging with their staff and create an internal organization of support and organization in general. I think it's a balance between taking pride in what you do, having a good fit of responsibility, and being appreciative of your staff's hard work in keeping the practice thriving and growing. It's a challenging position to be in as a boss, but listening to staff and meeting their employment needs as well as salary is crucial.
Tiger: 
I believe that when it comes to the question of how much to pay an employee, it ultimately depends on the problem you're trying to solve and the size of your business. As someone who runs a business myself, I often hear my friends who also run businesses asking this question. However, I think it's important to consider what responsibilities and tasks the employee will be taking on and how they will contribute to the success of the business. In my opinion, the dental assistant is a critical role in the success of any dental office. While you can open an office without an office manager or hygienist, you cannot do so without a doctor and a dental assistant. That's why I'm passionate about creating a growth track for dental assistants so that they can become even more valuable to the business. Ideally, there should be a path for dental assistants to grow, whether that means becoming a highly skilled individual contributor or a people manager. This would allow them to take on more responsibilities, become more efficient, and ultimately help the business succeed. I understand that it takes an open-minded individual to bring in another set of eyes to their job, but I believe the benefits of having a highly skilled dental assistant are undeniable.
Amanda:
I believe that having a dynamic where another mini provider is brought in to help with efficiency and productivity requires an open-minded individual. In my opinion, there is a huge value in this approach as it allows for more productivity, helping more people, and increasing production. From my perspective, I can only see positives, but I also acknowledge that it takes a person who is relational and willing to collaborate with another set of eyes to their job. It's something that I think is right and good, but it requires a specific mindset.
Tiger:
I think it's important to recognize the different strengths and skill sets of your team members, and not just promote someone based on their current job title or position. As you mentioned, someone may be an amazing dental assistant but may not necessarily excel at managing people. And that's okay. It's important to identify those individuals who have the potential to be great people managers and provide them with the necessary training and support to develop those skills. In terms of compensation, I believe that it's important to pay your top performers what they're worth. If you have a true leader assistant who is instrumental in running the office and managing the team, then it's worth investing in that person and compensating them accordingly. However, I can see how having a single office can pose challenges in terms of career growth and advancement opportunities for your team members. One possible solution could be to provide additional training and development opportunities, such as attending conferences or workshops, or taking on additional responsibilities within the office to help them continue to grow and develop their skills. Additionally, cross-training your team members in different areas can also be beneficial for both the individual and the office as a whole.
Amanda:
I think it's really valid to consider how to keep staff engaged and growing in their roles. In my experience, hiring a consultant to do personality training and identify each staff member's strengths was really helpful in finding the right fit for each position. It's important to remember that people can improve their mindset and way of relating with others if they have the right support and tools. However, if someone isn't suited for a certain role, it's important to recognize that and find a position that better aligns with their strengths. When it comes to staff retention, it's important to be proactive and ask them what they need to stay happy and engaged in their job. Life changes happen, and sometimes a job may need to change with it. It's interesting to see how different doctors in our practice have different ways of relating with staff, but ultimately, it's about finding what works for each individual. While I haven't been in a position where a veteran staff member has left due to life changes, I think it's important to approach each situation with empathy and a willingness to adapt.
Tiger:
People have kids.
Amanda:
I've noticed a significant shift in mindset with the younger generation staff that are joining the team. They've been exposed to different experiences and have a different perception compared to the previous generations. The world has changed dramatically in the last five to ten years, and this has influenced their perspectives. As a result, there seems to be a breakdown in perception between the younger staff and the doctors, practice owners, and managers who have been in the industry for longer. I can understand how there may be some conflict when it comes to salary or hourly wage negotiations, as the younger staff may request what some owners perceive as an audacious amount. However, I believe that if an employee is bringing value to the practice and is an asset, they deserve fair compensation. To ensure we get the best candidates, we have implemented an intensive vetting process that includes a thorough background check and a rigorous interview process. We aim to attract employees who take pride in their work and are willing to work collaboratively as part of a team. I think the onboarding process is changing rapidly, and we need to adapt to stay current. While it's challenging to determine what you're getting before seeing someone in action, we believe that our hiring process is the best way to ensure we hire the right candidates. Ultimately, it's a complicated issue, but we are constantly working to improve our process and find the best staff to join our team.
Tiger: 
I agree with your point about the importance of having a diverse mix of generations in the workplace. In my opinion, a work environment where everyone is about to retire is not ideal and may be challenging to sell. Instead, having a representation of different generations can create a melting pot of ideas that can benefit the upcoming and retiring employees. I believe that as long as everyone gets along and works together as a team to reach the common goal, it can lead to a successful work environment. However, I do think it's crucial to maintain a professional relationship with team members and avoid calling them "family." Although some people may use this term to express their appreciation for their team, it can lead to a sense of entitlement and can make it challenging to make difficult decisions like firing an employee. In my opinion, it's better to show respect for team members and express appreciation for their hard work without blurring the lines between professional and personal relationships.
Amanda: 
I agree that different people may have different understandings of what "family" means, and it could be related to their level of vulnerability. In my view, being part of a family is about having a mindset of caring for each other, being loyal, and working together as a close-knit team. However, I can see how some people may see their family and a work or team environment as two different things.
Tiger:
I think the difference in our perspectives on this topic may be related to our generational differences. For example, I know someone in dentistry who considers his son to be his best friend, but personally, I value having other friends as well. I believe that being a parent is about being responsible for my child and providing guidance, rather than relying on them as my main source of emotional support. However, I acknowledge that my perspective may not be the only valid one, and I am open to exploring different viewpoints on the matter.
Amanda: 
Personally, I agree that a business and a family are two vastly different things, even though they may share some similarities in terms of dynamics. From my perspective, having a warm and caring dynamic within a work team is important, but it's important to acknowledge the complexities that come with a family dynamic. I can understand why some people may prioritize accuracy and precision in their language, while others may use language more loosely. However, I have noticed a trend towards using the term "family atmosphere" in the workplace, and while it may work for some, I personally find it cringey and uncomfortable. Ultimately, there are different perspectives on how to view this topic, but I believe it's important to recognize the differences between a business and a family.
Tiger:
Did Zen affect your relationship with vendors in any way, good or bad?
Amanda:
I understand that there has been a change in the level of personal interaction with the one representative from Dynaflex, Lori. However, I have found that our business relationship has improved as we have been able to maintain regular check-ins and address any specific situations that arise. While we don't interact as frequently as before, I appreciate that Lori is always available when needed and that ordering is now more streamlined. Overall, our business relationship is where it needs to be.
Tiger:
What would you recommend to offices that are on board with Zen?
Amanda:
In my experience, it's a relief to have specific products that we know we like and can get every time, rather than constantly trying new things. However, it's important to be patient when getting your inventory set up, as it can take some time to organize and keep track of everything. In my situation, with multiple providers using different materials, it can be more challenging, but I'm always open to learning and improving.
I personally have experience with searching for items, but I understand that not everyone on my staff may have that experience. It's important to train and support your staff, and vendors can also be helpful in recommending products.
I must say, your staff, particularly Lana, Anastasia, and Delaney, have been amazing in managing my account and providing excellent customer service. It's clear that Zen staff and customer service are top priorities, and it shows in the quality of support I receive.
Back to Blog