Live Events Recap for the Week of June 15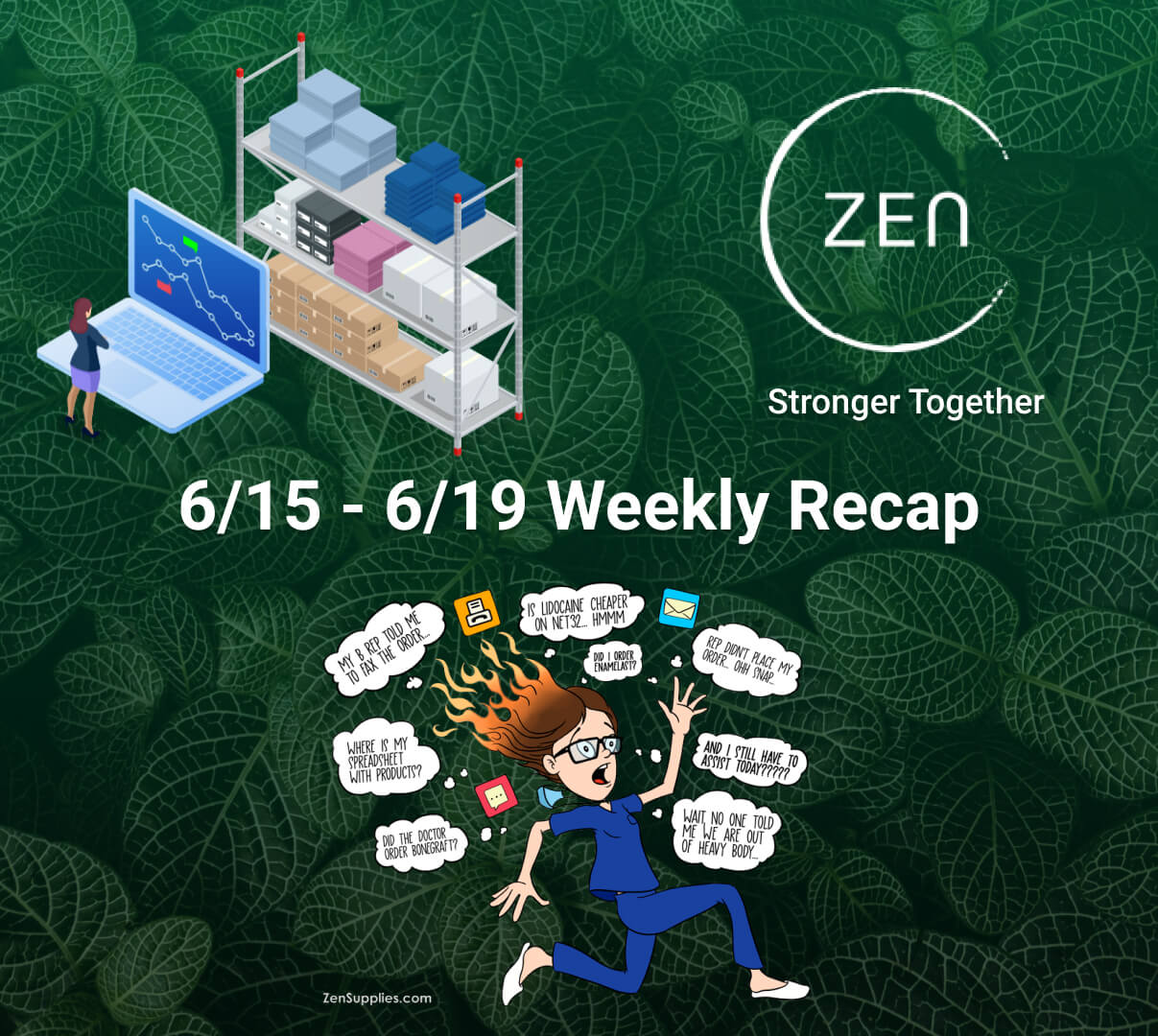 Happy Monday to all!
As everyone starts out another busy week, I'd like to provide a recap of the live events and webinars we've had at Zen this past week as well as some exciting live events that we have planned for the week of June 22! On Friday, June 19th, Tiger hosted an Inventory Workshop. As offices begin to reopen, we have all been thinking about our inventory and staying as organized as possible during these busy times. So we took it to the next level and Tiger reviewed what brings you JOY the Marie Kondo style within a dental office! Here is where you can find the full webinar:
Our very first Article on Installing Tip out Bins: https://www.zensupplies.com/blog/ready-set-get-your-dental-supplies-organized-with-tip-out-bins/
Our First Webinar on Inventory and Ordering: https://www.zensupplies.com/blog/dental-inventory-makeover-webinar/
And on Friday, 6/19 at 11 am CST, we started a new tradition with a "15 min Friday Supply Availability Update" for Zen Offices that is hosted by Tiger!
Please join us
Every Friday at 11am Central
for a live update on what is going on on the market and availability of dental supplies. All you have to do is login to your Zen account,
app.ZenSupplies.com
---
For the week of June 22, we have planned the following events:
On Thursday, June 25th at 11 am CST, we invited Tim Twigg to discuss with Tiger the Post COVID Hiring Challenges and PPP Forgiveness Update (1 HR CE).

For many dental offices across the country it's been really challenging to bring the team back, adjust the schedules to the new guidelines and hire new team members. Also new guidelines for the PPP loan forgiveness were just announced. Therefore, we are extremely grateful to have Tim back on the live webinar to cover these and more HR related questions and challenges. To join the webinar, please follow this link:

https://livewebinar.com/494-420-043
And of course, per our new Friday tradition, on Friday, June 12th at 11 am CST, Tiger will host a 15 minute supply availability update. Everyone is beyond ready to get back to work in a safe environment. The ZenTeam is spending countless hours every week doing due diligence, learning about FDA approvals, learning about product shortages, and sourcing new vendors. In addition, the landscape of the supply chain is constantly changing and so are the prices of PPE products. Therefore, Tiger will host a 15 min live event EVERY Friday at 11 am CST to go over what we learn during the week. We will share EVERYTHING-good, bad and what to prepare for. Simply login to your ZenSupplies account and join us there for all live events!
Thank you to all for participating in our live events and we look forward to seeing everyone during this week's webinars!
Back to Blog