Organize
ZenPremium
$199
month / location
This plan is Ideal for busy practices and the ones with multiple locations. It helps to control inventory, cost, and orders from different distributors all in one place.
12-month commitment
$599 one time setup fee
Training and Onboarding
30 Days Money Back Guarantee
One Simple Plan for One Simple Goal
Get
Zen
and we bring your supplies overhead to 4%
Schedule a Demo
Dr. Charlotte Milch, DDS
2 reviews
"Zen supplies has changed the way we think about ordering supplies - we have been able to keep our supplies under 4% on a monthly basis! Highly recommend Zen Supplies!"
Dr. Mitul Amin, DDS
7 reviews
"Great team, works very hard and a great application! You have to take the time to learn it and build the system but once you train properly and build it, ordering is so quick and easy! First month out, I have already saved a lot of money!"
Andrea Hardcastle
7 reviews
"Zen Supplies has made budgeting and organizing SUPER EASY in our practice. We'te able to purchase all of our dental supplies from 1 website. And it keeps track of our budget every month. I highly recommend Zen for any practice! I LOVE U ZEN! Thank you!"
See All Features
ZenPremium
$199/ month / location
Your Distributors and Zen Preferred
Add Any Distributor you currently use to centralize purchases through Zen
Access 500K product catalogs across 350+ suppliers
Sync and periodically update your custom prices
Unlimited access to SDS
Access to weekly & quarterly specials
Engage with Zen Community by writing product and distributor reviews
Set & Control budgets; deny orders over the budget
Corporate dentistry rates with Zen Preferred Distributors
Detailed product price comparison
Inventory Management & Ordering
Create custom Wish List & Set Min/Max levels of inventory
Automatically transfer entire order history to Zen
Create & Control custom inventory lists
Manage Inventory with custom Groups and Storages
ZenOut: Real-Time Inventory Tracking App
Automatic order generation based on current supply levels
Ability to predict running low products
Set order schedule for teams to follow
Track shipments in one place
Monitor backorders and missing Items
Verify orders and manage returns
Free Shipping with Zen Preferred Vendors (based on min order amount)
Track Free-Goods
Process payments with cc on file (only Zen Preferred Distributors)
Electronic invoices & paperless billing (with select Distributors)
Live Chat Support
Custom client price monitoring and control
Free Goods monitoring and process manufacture forms
Order reviews and instant backorder update
Monitor distributor invoices for errors
Dedicated phone support
Access to in depth reports and analytics
Track Use Tax amount (for products purchased without sales tax)
Dynamic monthly analytics by spent; by category; by distributors; etc.
All Distributors in Zen
With 250,000 + products and more than 200+ distributors on the platform, Zen eliminates the need of placing orders on different websites.
Zen Price Comparison
This simple feature allows you to see price transparency in one place. Entire order or indiviual product can be processed with a piece of mind.
Access to Special Pricing
We use our buying leverage to negotiated prices for our Zen members. Same products or house brands are typically at 25-40% discount.
Access to MSDS
Have access to Safety Data Sheets to all products in inventory with Zen. Either you are using iPad or sdesktop MSDS will be at your fingerprint.
Advanced Inventory Management
This simple feature allows you to see price transparency in one place. Entire order or indiviual product can be processed with a piece of mind.
Free Shipping/ Free Returns
Free Shipping on order $60 and more when purchasing from Zen Preferred Distributors. If you didn't like the product you can always request a refund and return product for free.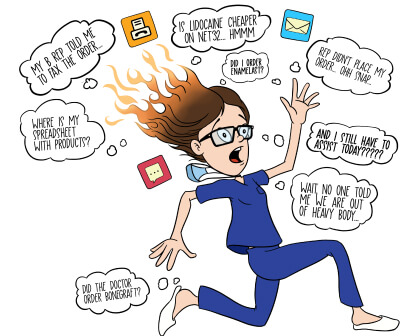 Ready to see
Zen Supplies
perform magic for your practice?
Need Help? Schedule a demo with our Zen Inventory Expert →
Schedule a Demo