[Repost] What the $2 trillion stimulus package means for dentists (from Becker's Healthcare)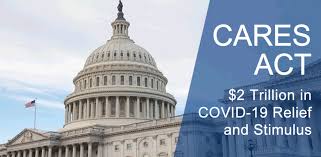 This is a repost from Becker's Healthcare, written by Gabrielle Masson on March 30, 2020.
President Donald Trump passed a $2 trillion emergency spending bill March 27 to combat the economic effect of COVID-19. Below are provisions of the legislation relevant to dentists, as explained by Chad Gehani, DDS, American Dental Association president.
Provisions the ADA believes are most critical for dental teams:
1. Economic Injury Disaster Loans. The emergency grant will be awarded on a first-come, first-served basis to those who apply for loan advances of $10,000 or less. Applicants won't have to repay the money even if denied the loan.
2. Loan forgiveness for certain small business loans. Eligible employers may have a portion of federal small business loans forgiven for certain payroll, sick leave, family leave and other expenses occurring between Feb. 15 and June 6.
3. Additional Small Business Administration loan payments. The Small Business Administration will pay the principal, interest and associated fees owed on 7(a) loans, 504 loans and microloans for a six-month period.
4. Retirement account withdrawals. A dentist can withdraw up to $100,000 in 2020 from retirement funds without paying a tax penalty if the dentist, their spouse or dependent tests positive for COVID-19, or experience adverse financial effects as a result of being quarantined, furloughed, laid off, or having reduced work hours.
5. Student loan interest deferral. Federal student loan borrowers will not be required to make a payment and no interest would accumulate on federal loans through Sept. 30.
6. Deferred Social Security tax. Employers and self-employed individuals will be able to defer payment of their employer share of the Social Security tax until Dec. 31.
7. Federal tax rebates. A one-time federal income tax rebate of $1,200 would be available for individual tax filers making less than $75,000.
8. Unemployment benefits. Emergency unemployment compensation benefits will be dramatically increased.
Back to Blog