Live Events Recap for the Week of May 18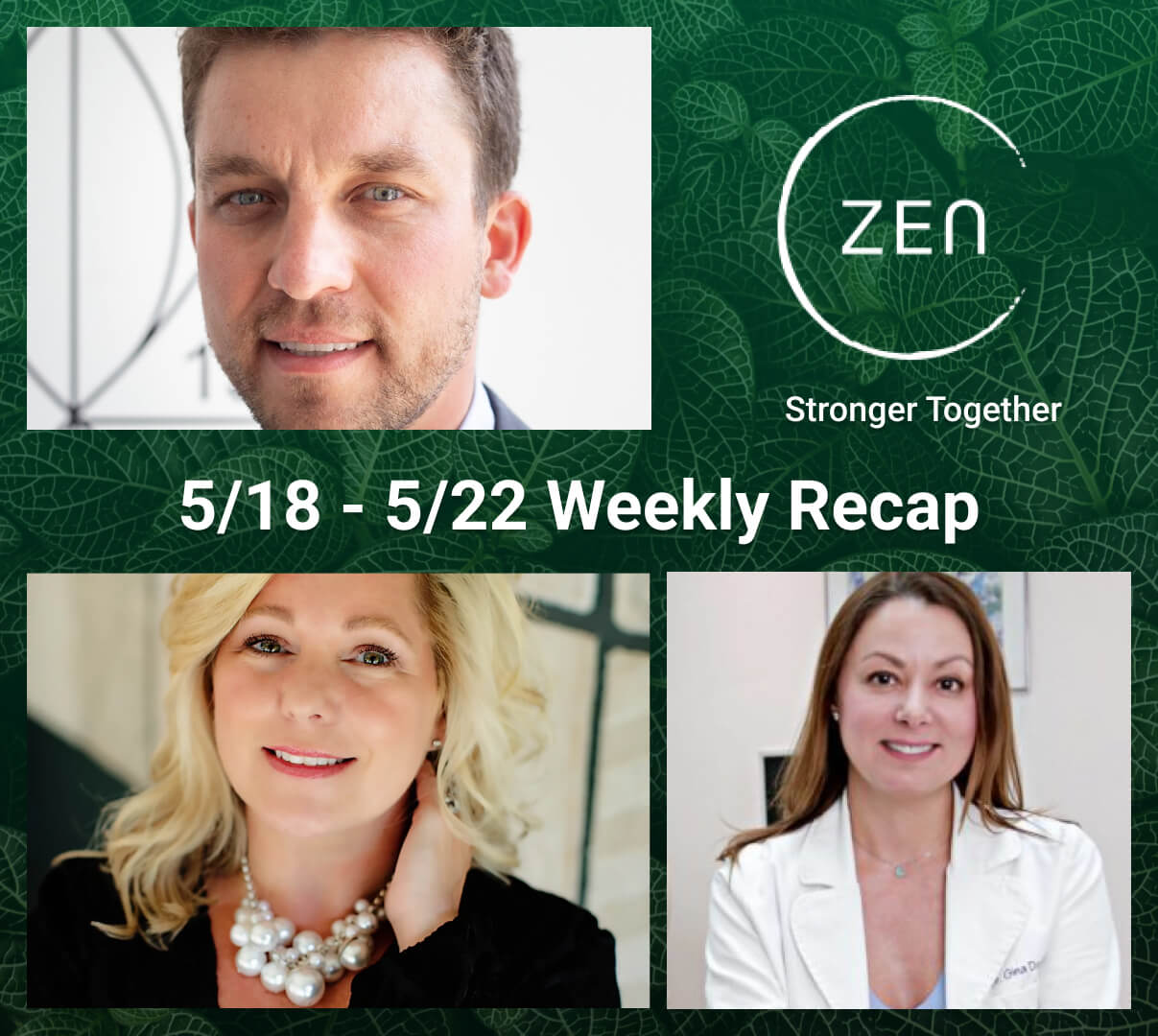 Happy Tuesday, ZenFamily!
Hope everyone had a relaxing holiday weekend. As we dive into another busy week, I would like to share a recap on our live events and webinars from last week as well as provide a small update on upcoming webinars. So last week here at Zen we had a webinar on Friday, 5/22 with Tiger, Dr. Gina Dorfman, a dentist and fellow CEO of Yapi Dental and Julie Varney, CDA, RDA, COA, FAADOM, CDSO, CDSH, Mentor of Dental Assistants Rock. Both Julie and Dr. Dorfman shared their experiences, tips and advice on reopening your practice. Dr. Dorfman's practice reopened on Monday, 5/18 and she shared with us how her office went through the reopening process and what their quarantine experience was like. Julie is in New York and her office has not reopened yet. They've done a lot to train their staff on new updates, performed a systems check and stocked up on PPEs. Dr. Dorfman also talked about some protocols, changes in the dental world, how to be an effective dental offices and the reasons why and how your team runs the practice. Please find the full webinar here:
Please find the podcast here: https://share.transistor.fm/s/7430adac
---
We are taking the week of Memorial Day to finalize the webinars for the week of June 1st and here's what we'd like to share with everyone thus far:
On Thursday, 6/4 at 11 am CST, we will be hosting a webinar on Disinfecting With Cold Fogging? Does it Really Work for Dental? (CE) and we will answer all questions!
How do we move forward with a "New Norm"? Well part of that is disinfecting the rooms and I am lucky to have a friend, Dr. Tom Larkin who introduced me to an expert in the field of Fogging – Mike Sands. Here is a short description from Dr. Larkin himself:
"Mike Sands is authoritative. In fact, he holds several patents and his company Cloudburst developed the first sideline misters introduced in the NFL in 1994.  They were the first misting/cooling system used in the 1996 Atlanta Olympics. Mike is a serial inventor and holds several patents in this space. I have no idea how I stumbled onto their website, but I am glad I did. I think cold fogging is an integral part of our come back protocol. Search the internet and you will see electrostatic sprayers and numerous fogging sprayers. Many, direct from China. I have been quoted as much as 30K for a system.  Mike will break it down and introduce you to a fogger for less than 50 BUCKS! One per Op. Personal fogging protection. "
Check out their YouTube channel:
And on Friday 6/5 at 11 am CST, Tiger will host a "15 min Friday Supply Availability Update" for Zen Offices!
Please join us Every Friday at 11am Central for a live update on what is going on on the market and availability of dental supplies. All you have to do is login to your Zen account,
app.ZenSupplies.com
We hope everyone is enjoying the live events and staying safe!
Back to Blog