Live Events Recap for the Week of July 27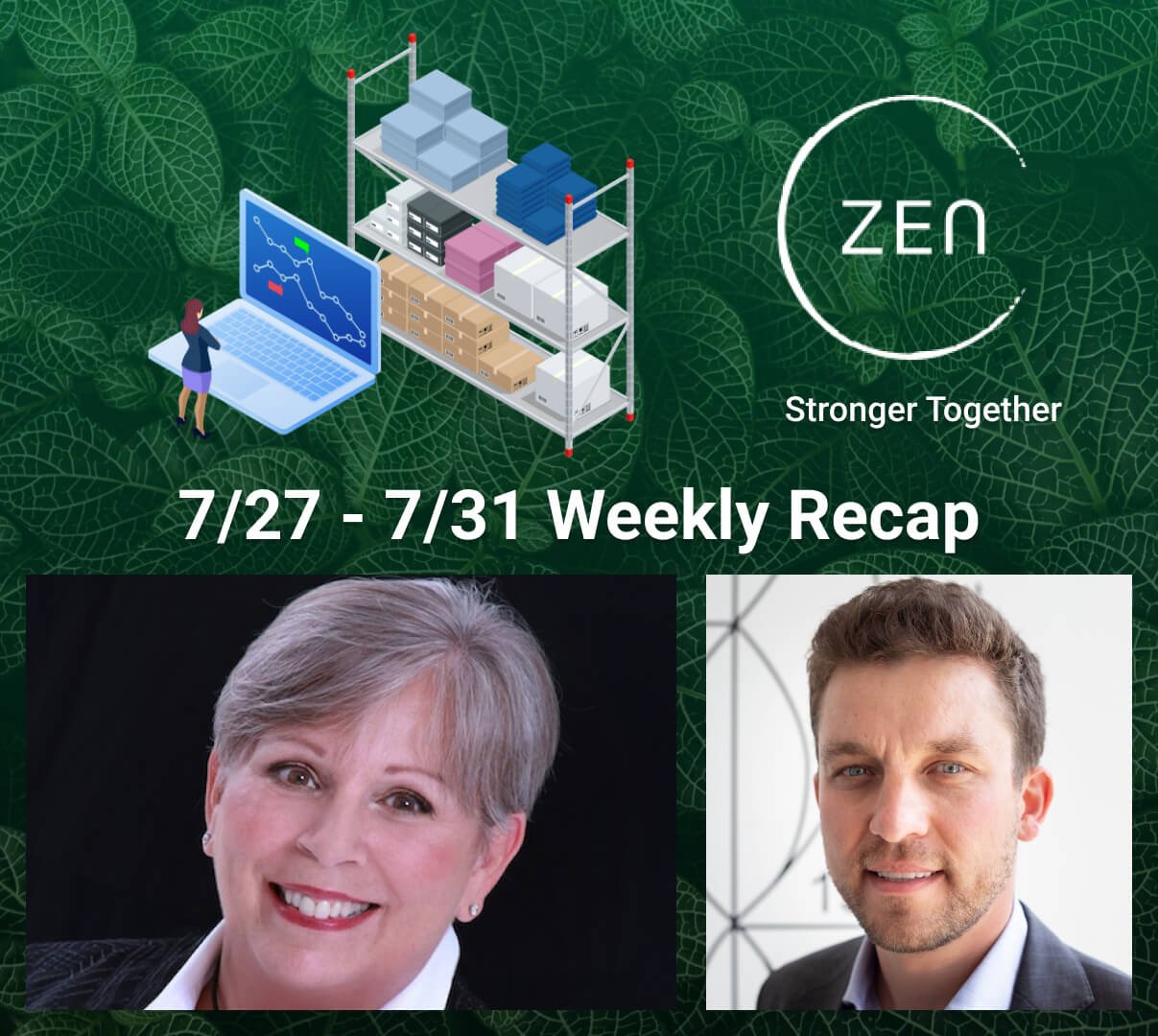 Dear ZenFamily,
Happy Monday and happy August to all! As we jump into another busy week, we'd like to share a recap of live events and webinars for last week (the week of July 27) as well as some exciting live events that we have planned for the week of August 3. So here goes! On Wednesday, July 29, by many requests from the ZenFamily, we invited Mary Govoni to the live webinar to discuss the new OSHA/CDC guidelines, requirements, and simply what's working and what our teams need to know about infection control. Tiger  asked Mary about the current shortage of Nitrile Gloves and Surface disinfectants (wipes). What are the options if we can't buy any more? How do we get through the tough times? Please take a look at the full webinar here: https://youtu.be/Gr2K_HEyymU
And here is the podcast: https://share.transistor.fm/s/b8be1436
To find more information on Mary Govoni & Associates, please visit:
On Friday, 7/31 at 11 am CST, Tiger hosted our traditional "15 min Friday Supply Availability Update" for Zen Offices!
Please join us
Every Friday at 11am Central
for a live update on what is going on on the market and availability of dental supplies. All you have to do is login to your Zen account,
app.ZenSupplies.com
---
For the week of August 3, we have planned the following events:
1. On Wednesday, August 5 at 11 am CST, we invited John Hatfield and Amanda Newhouse to a live event to share with us what the process of opening up a dental assistant academy entails. John from Dental Assistants Worldwide will cover in depth the challenges and exciting aspects of starting the Cornerstone Dental Assistant Academy. We plan to ask John and Amanda the following:
-What made him want to start a dental assisting academy?
-What will be different in their school as compared to other dental assisting schools?
-Why is a dental assisting academy needed?
-Will Cornerstone Dental Assistant Academy provide remote learning options?
-What are the challenges with the school not being remote/being remote?
-How will the  curriculum change post covid?
-How will the curriculum influence sedation, implants, sleep apnea procedures? How to prepare for the new trends in dentistry?
The benefit of the LIVE Webinar is that we will be able to answer YOUR questions during this time. So please join us at 11 am CST on Wednesday 8/5 at 11 am CST! All you have to do is login to your Zen account, app.ZenSupplies.com or follow this link: https://app.livewebinar.com/699-206-742
2. And per our Friday tradition, on Friday, August 7 at 11 am CST Tiger will host a 15 minute Supply Availability Update. The ZenTeam is spending countless hours every week doing due diligence, learning about different products and product shortages, and sourcing new vendors. In addition, the landscape of the supply chain is constantly changing and so are the prices of PPE products. Therefore, I would like to host a 15 min live event EVERY Friday at 11 am Central with a special guest to go over what we learn during the week. We will share EVERYTHING-good, bad and what to prepare for. And this Friday, we invited Dr. Matthew Kathan from Timber Dental to share his invention with us! 
Simply login to your ZenSupplies account and join us there for all live events!
Thank you to all for participating in our live events and we look forward to seeing everyone during this week's webinars!
Back to Blog