Live Events Recap for the Week of April 20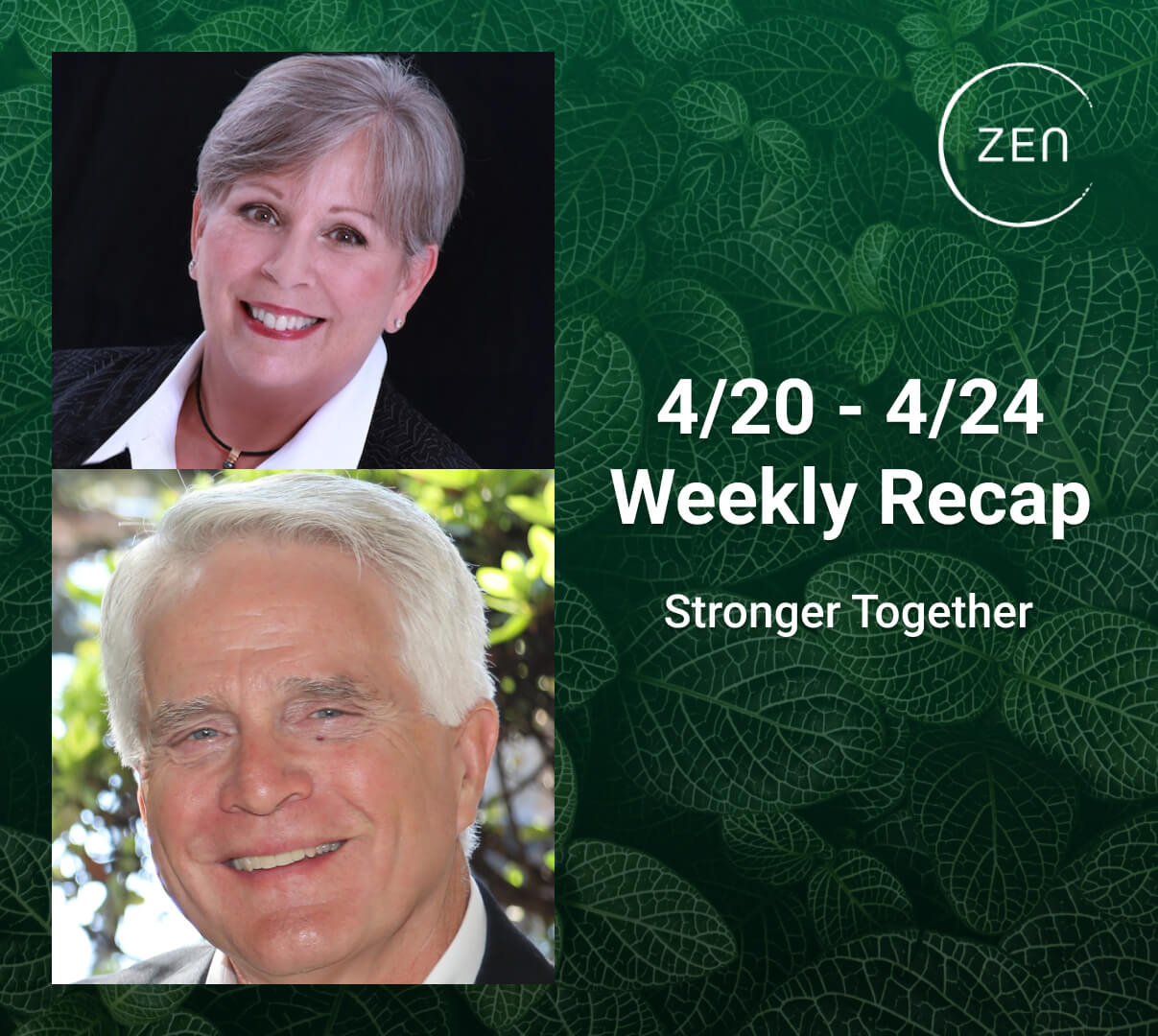 Dear ZenFamily,
Thank you to each and every one of you for participating in our live events and webinars this past week! We've gotten so many great questions in regards to our webinar on Monday 4/20 with Tim Twigg and on Wednesday 4/22 with Mary Govoni. Both of these webinars are eligible for 1 CE credit hour each! To find more information on how to obtain your CE certificate, please check the notes section under these two webinars in your Zen account. So here is a recap of what we talked about:
Monday, April 20:

Although Mr. Tim Twigg has joined us for a live webinar at the end of March, we invited him again to give us updates and share some news on what's been happening with the HR aspect of dentistry. He answered all the great questions that were asked during the webinar such as how the changes have impacted dental practices, staffing levels information, PPP Loan Opportunities, the hiring process for dentists and much more. Here is where you can find the full webinar:
Wednesday, April 22:

By many of your requests we invited Mary Govoni to the live webinar to discuss one thing that ALL offices are worried about – how we are going to protect our patients, our staff and ourselves. In addition, Tiger went over how to plan to purchase the most essential items before reopening the practice. We want to make sure we all come back STRONG and prepared when the big day comes! Please find the full webinar here:
https://www.youtube.com/watch?v=Quur8sGY7sY&t=1404s
During each webinar, we covered numerous topics on surviving through COVID-19 and staying strong during the times of the unknown! There were quite a few interesting resources, links, checklists and recommendations made during each webinar so I'd like to share them with everyone here:
4/20 Live: The HR Conversation with Tim Twigg:
-Here is the link to the "Alternative Work Schedule" for the dentist in California: bentericksen.com/alternate-workweek-schedule/
-Here is the Coronavirus specific information link on Tim's company website: bentericksen.com/coronavirus-faqs/
-Aspirations from Tim's Wall: https://drive.google.com/open?id=1YuspbC4EFcpXj9Zih4Xm1LFM2GQ823x3
4/22 Live: Guidelines on how we are going to protect our patients, our staff and ourselves. Understanding the purchasing constraints of PPE
-ADA COVID-19 Resources: success.ada.org/en/practice-management/patients/infectious-diseases-2019-novel-coronavirus?utm_source=adaorg&utm_medium=globalheader&utm_content=coronavirus&utm_campaign=covid-19&_ga=2.215779103.94097617.1587701693-788863450.1587586893
-COVID-19 Questionnaire: drive.google.com/open?id=1Fyk-lJXvHCgrsBmnsaub4O0PAlwSDh1X
-OSHA Compliance Checklist: drive.google.com/open?id=0B30ztLGC7S9hOGp0QTR4VHF1VVdfNHcyMmU4RzViLUFHdTM0
-Oral Biofilter (OBF) is a new product and it is awaiting FDA approval: www.astradentium.com/
-Information on the ADS Dental Systems: www.youtube.com/embed/6HN1SOYQnts
-Prior to reopening the office, please treat the water lines. Here is an excellent resource: proedgedental.com/
And here are the details for the upcoming events for the week of April 27th:
4/27 Live 2 pm CST: Dr. Brett Gilbert on Positive Mindset and Why Change is Crucial for Self Development (1 HR CE)
https://app.livewebinar.com/561-547-984
4/29 Live 11:30 am CST: Don't be Moody on Wednesday with Dr. Justin Moody
https://app.livewebinar.com/121-694-682
5/1 Live 2 pm CST: Dental Assistants Share Their Side Hustles
https://app.livewebinar.com/982-547-546
We hope everyone is enjoying the live events! Stronger together!
Back to Blog