I Spent 2 Weeks Working At the Cedar Park Office, So What Did I Learn?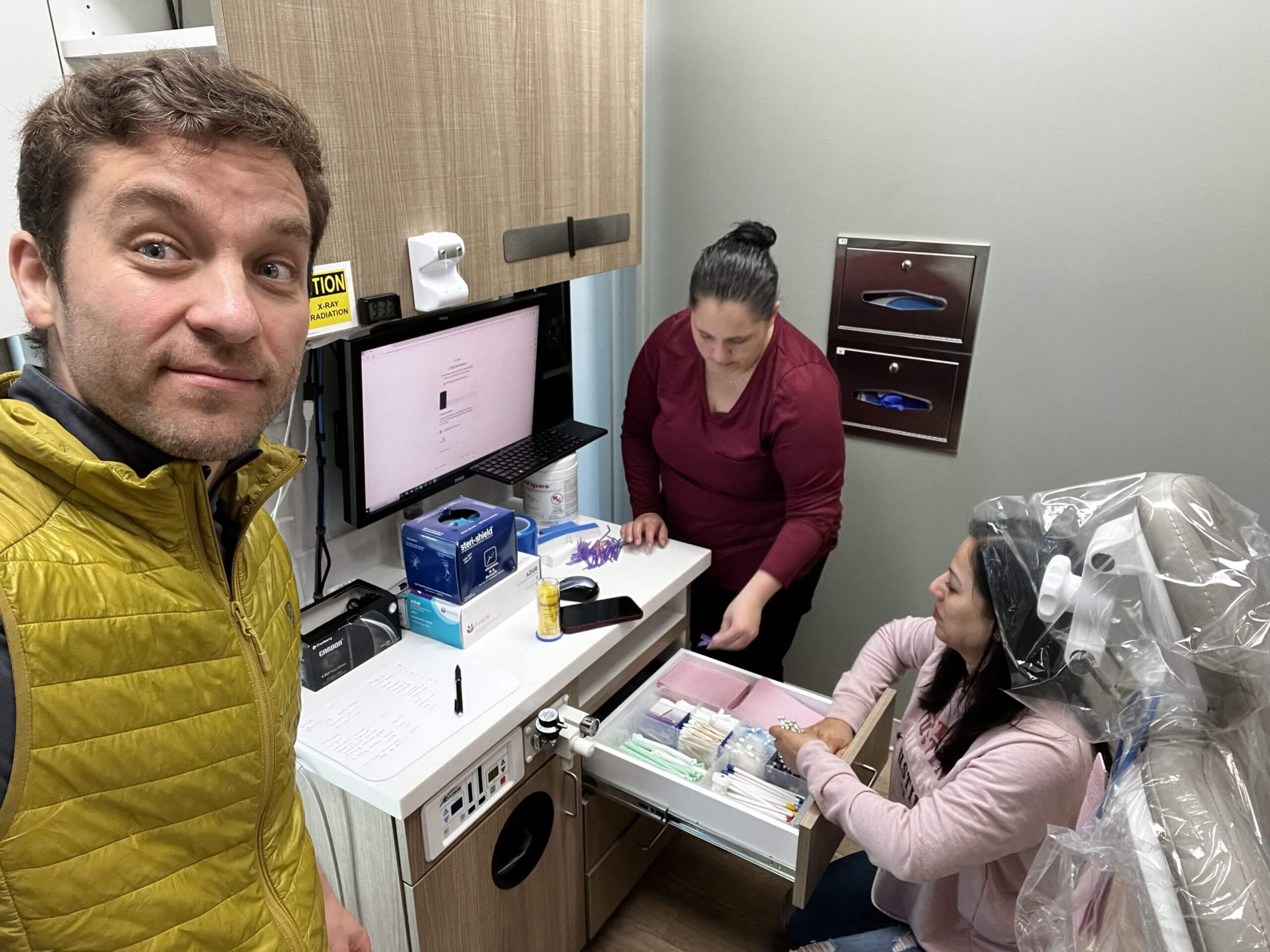 During 2 weeks working 9-5 (most days later than 5pm) at the dental practice in Austin, Texas, I did everything I could and was allowed to do. From cleaning instruments, taking the trash, ordering supplies, and other important things.
Here is my quick breakdown of each day:
Setup:
– 6 fully working Ops and 2 empty for now
– 3 DAs
– Open Dental
Day 1 of working at a dental practice:
Learned Sterilization techniques and how to turn over the rooms. So Far I have come up with 2 competitions:
– How fast DA can turn the room
– How far you can spill water from the syringe
– How fast DA can go from dirty to clean
Bottle Necks:
Learning instruments and how it needs to be washed
Day 2 of working at a dental practice:
Getting dirty – literally!
– Today I can do a lot of things myself, cleaning dirty areas, rinsing instruments, packing into dishwasher and then pouching to use autoclave
Being able to time things. Since they only have one dishwasher and 1 dry heat sterile, both large capacity, I need to be able to time when to load each. Ideally I need to see the schedule and be able to know what procedure ends soon.
– Rooms are not assigned. This is shocking, I don't know what column in OD represents what room. Hard to Navigate
– Learned how to clean and lubricate handpieces, however they have the Morita machine and perhaps not every office has it
– After I figured out the cassettes and how to wash things, next is loading the sterilizer. Again maybe it's this office, but they have to stamp with the date each dry heat indicator that goes in each pouch. Drives me nuts.
– Today was a long day, last patient at 5 pm ended up being a long process of saving a failing implant. We finished at 8pm. What do I do in the meantime, one DA is assisting, I'm waiting to help clean the room. So in the meantime I cleaned rooms – garbage, I could've worked on orders? This doc is amazing!
Bottle Necks:
Timing – knowing what procedure ends and when. Assign rooms in OD, so someone new like me can understand and anticipate what will need to get washed and what rooms to turn over
Day 3 of working at a dental practice:
Things are real
– I really need to know where instruments go after the sterile cycle is completed. Things are not organized so I have no idea what to do and I'm staring at the pile of sterilized things
– Also need to know how people like things, Ask DA how does she want me to hang the bib around the chair so it's easy for her to grab and unfold when the patient is seated
Ordering:
–      People gave me boxes and said to order this. It's really hard, even finding items and what that is. Ideally Zen should provide global search, even if the product is not sold through Zen. People call items different names, Ex: Bleach vs Solution both are the same but have different price.
–     When products already in the shopping cart, and I continue to search, for example I have air-water syringes and I need to see if chipper options are available, would be great to see products on the search page (or on the right side) that are same category and already in the shopping cart
–      All together I spent about 2 hours, OM was trying to find the email or something to remember how many last time they purchased, also where to order. It's not an easy process
Bottle Necks:
Organization of the office – where does each instrument go after autoclave?
Ordering – it's all over the place, online, spreadsheet, call the supplier. Most people don't know what needs to be ordered
Day 4 of working at a dental practice:
Ideas Day
– I need a place to sell unopened supplies back to others. It's too much time to try to remember where did I ordered it the first time
– What if "What if, based on the schedule, cassettes show up in the morning and leaving at night or being replaced each morning? "
Day 5 of working at a dental practice:
More Ideas:
– Spending lots of time researching Sutures. Would be great to go on Zen, since all vendors are there and talk to an expert in Sutures.
– Lots of supplies that need to be returned are not being used any more. Ideally setup a way for an office to return everything unneeded, for a refund or a credit
Day 6
Missed the Spore Test 🙁
This was on me and I missed to do it. How is it possible that there is no reminder/notification?
Day 7
More Ordering
– Need to order composite A2 they order Dentsply and it's $85. Didn't fill right, so started looking for cheaper alternatives. Venus is $44 for the same and there is an option in syringe for $22.
– When trying to compare products, I really need to see per use. For example composite comes in 0.25 g capsules or 1.8 syringe. If we take 0.25g as a baseline, would be great to see composite rate that way. Dentasply 15/pk at 0.25 g at $85 vs Venus 1.8g syringe at $22.40. Per use Dentsply is $5.6 and Venus $3
– ADD CR review – CR Conclusion into product Card
– Fun Idea – Custom tray cover paper with reminder, funny, inspiration quotes, etc!
Day 8
Spore Test Changes
– New Lab and New Process
– Challenges
– Process
Day 9
Getting handle of things
– Less items on the white board – where is Alexa
– Need to rebuild a page where I can see products that are arriving today (not a list of all products or orders). No just the products that are arriving today
– Tracking all orders in the spreadsheet – Salving, Garrison, Osteogenics, etc
Day 10
Let's Organize your Physical Space
– Count all of the supplies
– Min QTY for each room
– Restocking Process
– Tip Out Bins
– Shelves in the main storage
– Burs and Composites
– We have a full tale of supplies we need to give away or throw away
Takeaways
– It's a hard job
– Organize physical space – it's not a choice, it's a discipline that leads to happiness and Zen state of the office
– Treatment rooms – stocking process, with checklist and QTYs
– Establish Ordering Day
Back to Blog