Going from $400K of Student Debt to a Successful Business Owner with $1.2M in profit: The Financial and Professional Journey of Dr. Daryl Brito, DMD and the owner of Brident Dental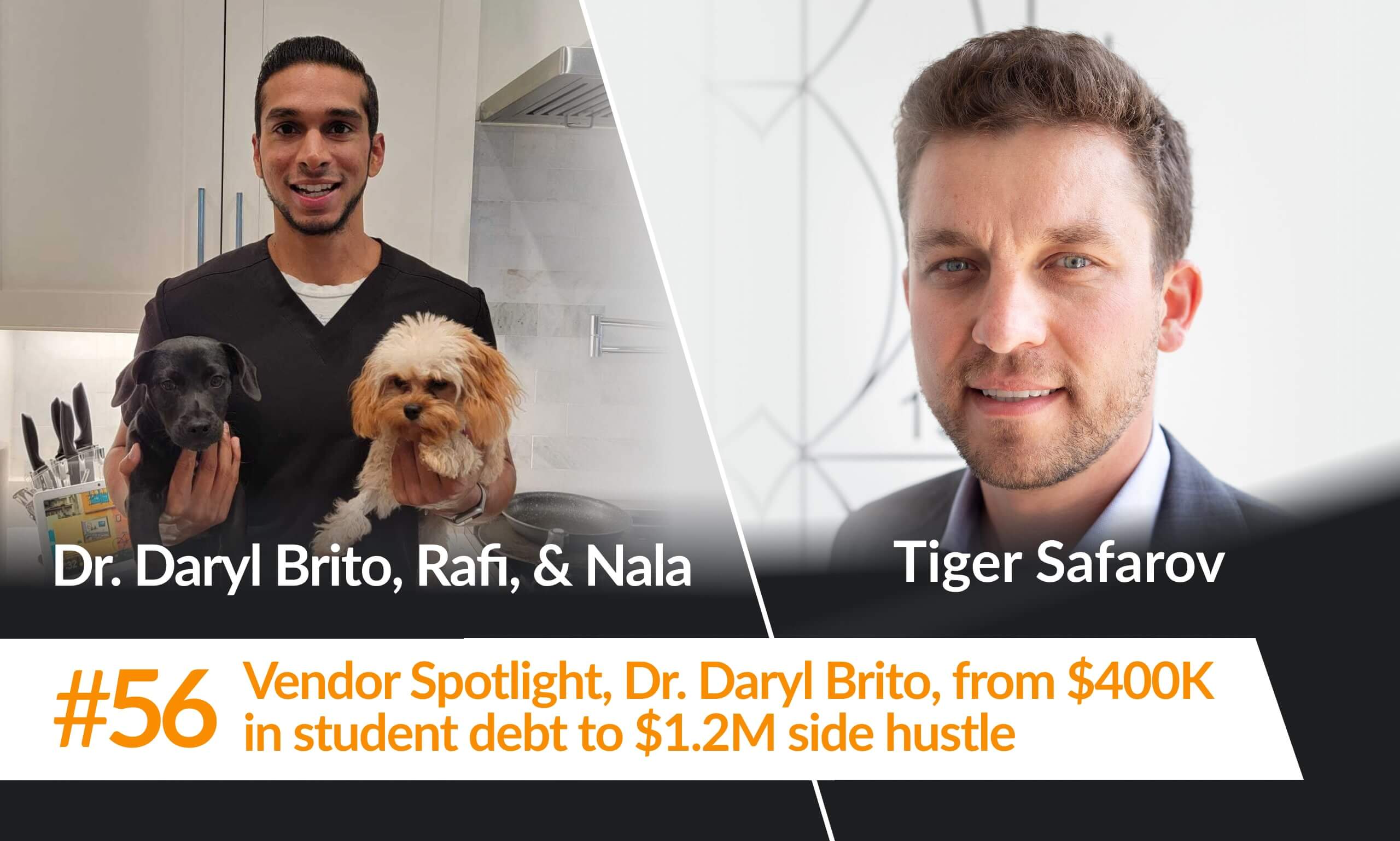 Dr. Daryl Brito has an intriguing story to tell related to dental entrepreneurship. He started his career as a Doctor of Medicine in Dentistry. Completing dental school and eventually opening up his own practice. However, he did not stop there. In a short period of time, he ventured into the distribution of dental products, achieving what many dentists aspire to accomplish over the course of their entire professional careers. Undoubtedly, he has more aspirations in his mind that he hopes to achieve. 
Watch the full interview with Tiger, owner of Zen Supplies and Dr. Brito here: https://youtu.be/oHo9UAWCHNI
Listen to the interview:
Dr. Daryl Brito's journey to becoming a dentist began when he was still in high school. He had the opportunity to shadow his local dentist and was drawn to the stress-free, easy-going atmosphere in the office. The experience inspired him to pursue a career in dentistry. In 2015, Dr. Brito graduated from Nova Southeastern University and relocated to Florida. He grew up in New Jersey, but was ready for a change in lifestyle. The quality of life in Florida was much better than what he experienced in New Jersey. He was particularly drawn to the beautiful winters and warm climate.
He recalls how during his dental school days, he adopted a student-like lifestyle to save as much money as possible. Despite this, he managed to live comfortably, take yearly vacations, and even travel internationally a few times. However, his primary focus was always on aggressively paying off his student loans. One of the ways in which Dr. Brito managed his finances was by conducting a 90-day analysis of his expenses. He wanted to understand exactly how much he was spending and where his money was going. By doing this, he was able to establish a baseline and identify areas where he could cut back. One of the things he found was that eating out was costing him a significant amount of money, so he made a conscious effort to reduce his dining expenses.
Dr. Brito's disciplined approach to finance has served him well, and he believes that it is essential for everyone, regardless of their profession, to have a good understanding of their financial situation. By being mindful of his spending and prioritizing his debt payments, he has been able to build a stable financial foundation that has allowed him to focus on growing his career as a dentist.
Dr. Brito initially believed that his job as a dentist would be stress-free, but he quickly realized that healthcare in general, especially dentistry, is far from stress-free. He found that opening his own office made a significant difference. He had previously worked in a corporate setting, where he was treated like a robot and saw over 30 patients a day, with little care for patient well-being or staff. In his private office, he now sees 8-10 patients a day, allowing him to go at his own pace and build better relationships with his patients and team. The quality of life has significantly improved, and he no longer experiences burnout. The change has been amazing for Dr. Brito, and he is grateful for the opportunity to provide better care for his patients, but he didn't just stop there. Dr. Brito knew that he needed a second source of income to help pay off his student debt even faster, so he started his own business. 
Through his business, Dr. Brito also made a connection that many doctors face – the "doctor tax" where companies and reps charge an exorbitant amount simply because they know he is a doctor. Luckily, he found a way to beat this system by getting equipment for other dentists at a fraction of the cost that other companies would charge.
When it comes to sourcing the equipment, Dr. Brito prefers to buy used equipment from retiring doctors or those looking to trade in for newer models. He meticulously tests the equipment and gathers information about its history, just like one would when buying a used car. This has proven to be a profitable venture, as many retiring doctors give away expensive equipment for pennies on the dollar. Dr. Brito's friend and fellow dentist, Dr. Lynn, was also able to save a significant amount on equipment by buying from various companies rather than purchasing everything from one large supplier. Dr. Brito believes that one can easily save 50% on the cost of equipment by shopping around and comparing prices before you buy.
Basically, right at the onset of the Covid-19 pandemic, he decided to start selling Personal Protective Equipment (PPE) in addition to dental equipment. This proved to be successful and helped to sustain his business during the tough times. Though PPE sales have tapered off since then, it remains a part of his business. When asked about his yearly sales volume, Dr. Brito revealed that it currently stands at around 1.2 million. He recently started his own dental practice with a friend, Dr. Ashley Natty, after a six-month gap where he focused on his dental equipment business. However, when they tried to secure a loan, the banks were hesitant to approve them as they were not currently practicing as dentists. After being advised to find a job, Dr. Brito found a part-time position at a practice, which he worked at for six months until the previous owner sadly passed away. The wife of the deceased owner had to sell the practice, and it just so happened that Dr. Brito and Dr. Natty were in the process of looking for a location to start their own practice. They purchased the practice in January 2022 and renamed it West Tampa Dental. Despite having more bargaining chips, Dr. Brito and Dr. Natty wanted to be fair to the previous owner's wife and kept her on as their office manager while also adding new services such as Invisalign and implants to grow the practice. 
Asking about the challenges he faces with running two businesses simultaneously, Dr. Brito admits that his work doesn't end at five and often requires him to work on weekends and attend continuing education courses. Although, he sees it as a natural part of being a business owner and enjoys the flexibility that comes with it. The only weakness he identifies with is his difficulty with delegation, which he is actively trying to improve.
When asked about expanding his product offerings, Dr. Brito expresses a desire to do so gradually, but acknowledges that he will eventually need a warehouse to accommodate the growing inventory. He prefers to keep it in-house for now, but he knows that he will have to move to a bigger space soon. While he is hesitant to commit to a location too far from his home in South Tampa, he recognizes that it may be more affordable to do so in the suburbs of Lakeland, albeit with a longer commute. Overall, Dr. Brito is focused on steady growth and finding the right balance between work and personal life.
Dr. Brito believes that 2023 could be a very interesting year for the economy and the dental industry. While sales have been strong in the first few months of the year, Dr. Brito is concerned about the potential for a recession. With layoffs occurring in various industries, he worries that this could negatively affect dentistry and dental equipment sales. He is interested to see if dentists will turn to purchasing more used equipment if budgets become tighter during a recession. 
Dr. Brito's strategy for growing his businesses during the recession is to focus on the fundamentals. For his dental practice, the key is to get new patients through the door, and he is using marketing tools such as Bird Eye to help achieve this goal. Dr. Brito also emphasizes the importance of keeping patients in-house during a recession, and recommends having a three to six month emergency fund to weather the storm.
Dr. Brito recommends saving money on supplies and equipment in 2023 by opting for smaller third party companies. According to him, these smaller vendors offer miles exempt supplies at a much lower price compared to bigger companies. The price difference can be significant and can quickly add up, making it an effective way to save money on supplies and equipment.
Back to Blog