From Dental Assistant to Clinical Manager: The Career Path of Dental Assistants – An Expert Interview with Diana Arnaldo, Clinical Manager at Irving Park Family Dentistry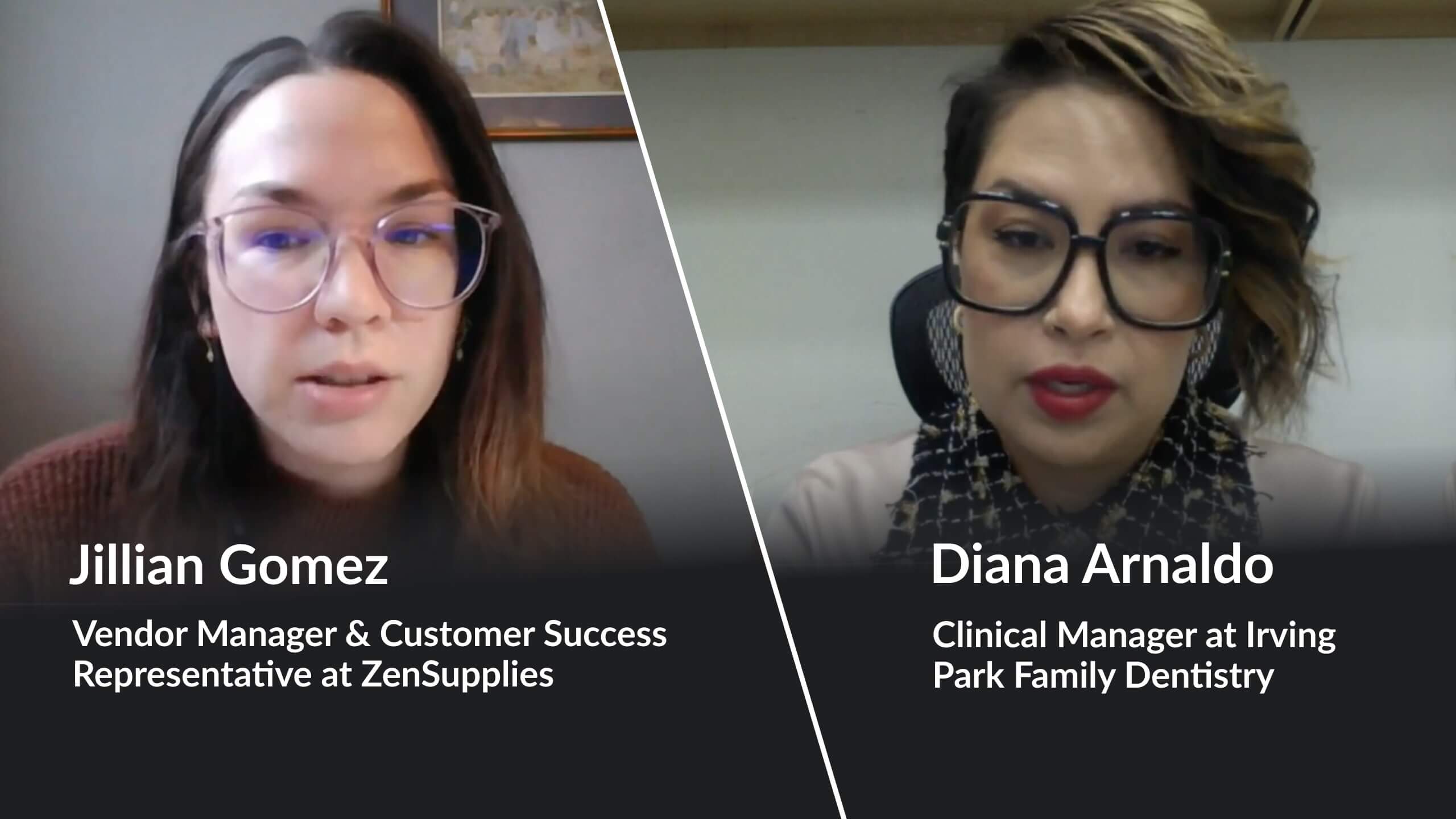 Welcome to our blog post featuring an interview of Jillian Gomez, Vendor Manager & Customer Success Representative at ZenSupplies, with Diana Arnaldo, Clinical Manager at Irving Park Family Dentistry. In this interview, we will explore Diana's background and her decision to work in the dental field. We will also discuss her current role as a clinical manager and how she streamlines inventory and orders supplies for multiple locations. Still, the main focus of our conversation will be on the career path of dental assistants, and the question on many people's minds – can a dental assistant make $45 an hour? Diana will share her insights on the role of a dental assistant, the necessary qualifications, and how one can grow in their career. Also, she will shed light on industry trends, fair compensation, and budget management for dental offices. You can watch full interview here: https://youtu.be/X34njhLG7oE

Another conversation about dental career growth – https://www.zensupplies.com/blog/41-elizabeth-bueno-clinical-director-of-river-run-dental-exciting-story-of-growth-focus-and-team-work/
Read on to discover what Diana had to say about this important topic.
Jillian:
All right, Diana, thank you so much for meeting with me today and agreeing to do this interview. I just wanted to start out with a little bit of background. Can you tell us what your role currently is in your dental office and what was your the career path of a dental assistant?
Diana:
I am the clinical manager for Irving Park Family Dentist. We are a corporation of 10 plus offices, including here in Illinois and in Wisconsin. I got into the dental field when I was really young. Actually. I have been studying since I was in eighth grade.
Jillian:
Wow.
Diana:
Yeah. I know I got a lot. Then I accidentally chipped a front tooth and I was really uncomfortable. I was 16 where appearances are pretty much everything and pathetic. It was a really tiny chip, but I just didn't feel comfortable. So when I went and he put a filling, it completely changed me. I got my confidence back and it was that assertion that's what I wanted to do. I wanted to give people that confidence with their smiles as well.
Jillian:
That's amazing.
Diana:
Thank you
Jillian:
You didn't really have a fear of the dentist, like most kids at a young age.
Diana:
I actually enjoyed it. The only thing I did not like was the fluoride but I did not fear going in at all.
Jillian:
When you first went into the dental field, how did you start? What was your first position or job?
Diana:
It was just dental assisting. I did go to school prior so I kind of got annoyed a little bit. So it was just, you know, the basic dental assisting, assisting the doctor sterilizing and then I moved my way up throughout the years.
Jillian:
So you are proof you can grow within a dental?
Diana:
Of course. Yes. Yes!
Jillian:
Awesome. So what does your day typically look like now? And like how do you help your office stay organized with inventory of products and everything?
Diana:
It varies but it usually starts with checking my texts. I do manage about 10 assistants. If anybody calls off, I have to see how my day is gonna go now because I have a pretty busy schedule. I do have to make sure that we're still able to work throughout the day depending on how many assistants call off. Once I have managed that, I do answer my work email, which includes talking to a couple labs. We work with around five labs. So I have to make sure I have answered all their emails or their questions regarding our cases and follow up on our cases as well. I enter cases once they come in and we have around 10 to 20 cases come in every single day. I check my schedule for the next day, make sure everything is how it's supposed to be. Then I have everything prepared for the patients coming in. And if by any chance we are short staffed back there, I do get to assist sometimes back there as well.
Jillian:
Do you enjoy going back to that a little bit?
Diana:
Yeah, I do. There are days I miss it. I'm sitting in the chair and I'm like I need to go back there at least just to feel like I'm on the floor.
Jillian:
And you get that I'm sure. And it is also like you get that patient interaction. Kind of that inspired you in the beginning to get into dentistry.
Diana:
Yeah. I was on the floor a little bit more in the beginning here and I did establish a lot of really nice relationships with a lot of patients where they still see me walk by and they come say hi, or even I'm in the office and I see them on the schedule, I'll go say hi to them and we're like, catching up and ask me about my family. And it's just really nice to have those kinds of relationships with your patients.
Jillian:
Of course. And it makes their experience so much better. 
Diana:
I still have patients that still ask my provider that they want me to assist them and I'll put it on and I'll go back there and help 'em out if they feel comfortable with me. I, you know, I wanna give them that comfort cuz I know it could be a scary chair.
Jillian:
Yeah. I will admit, I worked in a dental office for a while and I still get nervous. Even now going to the dentist, it's something I think you just can't really help but you put things into place like knowing a familiar face. Yeah. Makes the difference. 
Diana:
Yeah, exactly.
Jillian:
That's so cool. So, your offices obviously have ZenSupplies.
Diana:
Most of them have it, yeah. If not all of them.
Jillian:
Do you help manage that at all or for the most part are your assistants like taking the lead? 
Diana:
No, I do all the ordering. I actually have a master list that was created actually on your website. I was able to share with all of our other offices that master list. So everybody has the same material cuz we do have providers that do travel to other locations. So they do like some materials that we use here. That's what's really helpful about your website. 
Jillian:
So has it helped you keep track of inventory? 
Diana:
Right. So that's really helpful. I do use it and it is nice to have a little warning like, hey, you're kind of running low but I also do have a list as well that I take with me around the office when I'm doing inventory just to double check. And we do have the system, like if we see we're running low, we'll go ahead and put it on a board and then I compare it to what Zen says. So it is a very helpful system.
Jillian:
Do you have any advice for other offices? I know some offices struggle with getting some compliance as far as like zening an item out or marking that they took something from their inventory. Do you have any advice on that aspect?
Diana:
I think you just have to be aware of how much your office is using at all times. And there's not every month it's gonna be the same. I mean, I've had months where I'm doing more root canals and I know if I'm doing more root canals, that means in a couple weeks I'm gonna be doing more crowns. So I know I have to stick up a little bit extra on that as like, on that procedure, like impression materials, impression trays. That way I think, this has helped me to never really run out of stuff. I do order just a tiny bit more extra just because I know when I'm ordered, depending on the company I'm ordering from, it might take a little bit while for us to get it in the office. So I do have my assistants as well who let me know when I'm about to hit that. Hey, we're down to three. They know that once we're down to three we have to write it on the board and they have to inform me so I can keep a closer eye on it. Yes. Just to make sure we're gonna make it to the rest of the schedule without having to order before our actual orders do.
Jillian:
It's awesome that you're able to analyze and look down the road and know you're gonna need more of a product because like you said, you just did a ton of root canal so you know that crown is coming. So make sure you have those supplies for those patients and there's no delay. That's part of why your office is so …
Diana:
Great:) Thank you!
Jillian:
Yeah, of course. Okay. So I wanna get back to a little bit of your role when you first got into dentistry and assisting. So we've kind of been thinking of this idea like how can dental assistants move forward and really grow within the dental office and is it possible for assistants to make, like $45 an hour? What skills do they need to get that pay? Like how can they show their, I don't wanna say worth, but show like, hey, like, I deserve this money because like, I'm doing X, Y, and Z within your office. I'm a real asset. 
Diana:
Right.
Jillian:
Getting a dental assisting certificate or going to school, do you feel like this really helps push you a little bit further in the career path of a dental assistant?
Diana:
It does. I feel like it, I went through an intensive course where I was certified. It did help me in the fact that when I went into an actual job, I already knew how to take x-rays. I already knew how to take impressions. I knew at least some of the material, but I knew the steps. Because everybody uses different things. Every office is gonna use different materials from different brands, but at least I knew the steps for every procedure. So that's what helped me. And then you never know when every office is different. You might go in where you might be the only dental assistant and if you're not prepared to at least note the basics, it's gonna put you back a little bit. So, it just depends on the person as well, on how fast they learn.
I've had assistants here that we've had to train from scratch. Like literally explaining to them the tooth anatomy, the tooth surfaces and I've had assistants that picked up really fast and about three months they're good to go. And then there are assistants that I, they're like, you know what? I can't work like this. I prefer to be in a classroom where somebody's showing me and you know, I'm taking my time and it, and it just depends. I feel like certifications do help you out. There's a certification for sealants and prophylaxis that, you know, gives you an extra step to be, Hey, I'm certified in this. I can do this extra for the office where the doctor can go do something else to produce something else. And you're helping 'em make that production with just the assistant being there? Yeah. So the more they, they, you know, the assistant prepares themselves . The more certifications they have, the more knowledge they have in their field, the more valuable they are and the more they can produce by themselves and have the doctor go on and do something else to work on a different procedure.
Jillian:
On average, do you know how long was that dental assistant certificate program? How long were you in?
Diana:
Mine was eight weeks. It was an intense course of eight weeks. It was a Saturday. I remember from 8:00 AM to 4:00 PM. It was all day. It was an all day course. But that was years ago. 
Jillian:
Yeah. Do you think that offices should invest in their dental assistants career paths and maybe like, do certain certificate programs? Maybe using technology, like sending an assistant to learn the CAD/CAM, how to scan a tooth so that you guys can make crowns within the office? Do you think there's value in dental offices putting that time and like money into their dental assistance?
Diana:
Of course. Because if, you know, if you invest in your assistant, you're also investing in your office because they'll be doing that for you. 
Jillian:
Yeah. Okay. And do you think dental assistants can get maybe not like that $45 an hour or at least more to be more sustainable and more again, like I don't like saying the word value or like worth, but you know, being seen as a producer, kind of like hygienists are. Right? Like, do you think that dental assistants can make that 45 an hour?
Diana:
I feel like if a dental assistant, just as a dental assistant, you can't. Just because you know, we have to take our minimum wage to $17. But I feel just as a dental assistant, we can, especially in Illinois, we're very restricted in what we can do to help out in our office. I know we just had a couple of certifications that were passed but I still feel that we can't reach where a hygienist is still gonna be able to make that amount of money. As a dental assistant, you can definitely work your way up in the ladder and learn as much as you can. Not only about dental assisting, maybe be cross trained with the front and you know, you can let your provider know like, I'm doing the job of two people. I'm helping you with two people and you are only paying one, so they might be able to pump up your salary a little bit more. But I don't think we'll be as dental assistants at $45 . I think it's a little high.
Jillian:
Do you think there are different levels to dental assisting? So like, I know some offices, like you mentioned, most private practices maybe have one dental assistant, right? Maybe two depending on how many doctors there are. But then you look at like corporate dentistry who maybe have like five dental assistants because they have more doctors there, whatever it might be. Do you think there are different levels to dental assisting where maybe you could argue like the higher pay because you are now managing assistants lower than you or you're teaching them the skills?
Diana:
Yeah, there are different levels. Like I said, when I first started I was a dental assistant, which all I did was pretty much what I was taught in school. Take x-rays, bring the patients in, set up charts, sterilize sterilized instruments, and that was my whole day in the beginning of my career path of a dental assistant. Every single day. I moved up to the main dental assistance where you have a little bit more responsibilities, you're responsible for ordering, you're responsible for maintenance for the whole office. And then I became a clinical manager where now I'm in charge of other assistants. I'm still in charge of the whole office, making sure it's running properly. If something breaks down, I'm responsible for calling the company, making sure I schedule something for them to come in. So there, there are levels to that. And with more responsibilities you have, you do have that argument and you deserve more.
Jillian:
I mean it comes to, I think, like your drive and your work ethic, like that gets you there. Of course. But did you also have a mentor in the office that kind of took you under the wing to teach you more? Or was it maybe the doctor?
Diana:
I did have great doctors that taught me a lot of things. You do need those providers with you because they're the ones that are gonna show you and teach you as you know, you start moving up for clinical manager when it comes to ordering and try to maintain everything. I had some great assistants help me out. You know, as they were moving on they would show me, this is what you need to do. And I also learned on my own sometimes if I'm making mistakes or you know, trying out things you have to, you learn as you go sometimes. And then there's always people if you're lucky enough, like I was to have people help you out as well.
Jillian:
I think it takes a combination, obviously like you're driving your work ethic but also those people who are there to help you learn and grow. Definitely key. How does the hourly rate wage of a dental assistant do you think compare to other positions within the dental office?
Diana:
I think it's definitely changed from when I started. At least the minimum wage has gone double from when I started. 
Jillian:
You mind sharing where it was when you started?
Diana:
It was $8. I started at $8. Yeah, that was a minimum wage back I think in 2006 I think. 
Jillian:
Wow. So it has grown
Diana:
It has grown. Went, you know, we had a couple interviews and you know, we were looking at the minimum wage and yeah, it's, and I mean I'm happy because it's a very demanding job to be a dental assistant. We're always on our feet, we're always running around. I'm glad it has gone up but I still feel like we're still not up there compared to the rest of the positions. Like you have said hygienist. I feel like there's still more room for our position to grow and I'm just glad we are giving the opportunity because there's a lot of things now as a dental assistant you can do that. We didn't have that opportunity when I started. Pretty much back then it was just polishing and sealants and now we have, we can do scanning, we can fabricate night guards, we can make retainers and that also helps the career path of a dental assistant get bumped up a little bit as well.
Jillian:
Yeah, absolutely. And I wanna say too, like you hit on a great note. Dental assistants are, you are on your feet all day, you are in and out of like dental ops going from one to another, maybe handling two patients almost at once. Yeah. What advice do you have for dental assistance? For one, I guess I wanna start with managing their day, but also two, managing the stress and the toll it might take on their bodies a little bit, right?
Diana:
Yeah. I always try to look at my schedule the day prior just to make sure how it's gonna go and start planning out not only with my staff but also as well with my providers. I think that's a major thing and it also helps with your providers. I was lucky enough here that we have a lot of providers that understand that sometimes we do have to be running around and they're willing to work by themselves and they'll be, okay, I got this. You go get the other patient and come meet me when you're done. Like don't take your time. So I think that's also very important when you do have your providers supporting you and helping you out on that, on that aspect as for stress and you can't let it get to you, right?
It's like I told the rest of my assistants, you guys have to come here. I understand there's a lot of stress going on outside of home and it's best if we don't bring it here because we spend most of the days at work. Yeah. More than we do at our houses. Sometimes I tell 'em I spend more time with you guys than I spend with my family and I don't wanna bring anything. Like it's already stressful enough, sometimes here you have a lot of personalities with your patients, you have a lot of personalities with your providers, with your front desk, with your staff and the back, your assistants and it just makes it easier for us to be happy. We're always trying to joke around back there just to lighten up the day. Yeah. And I think that's what really helps us get through the day and you know, we always try to joke around, try to make somebody smile. We're like goofing around back there as well sometimes. And it just helps our day just go by so much smoother.
Jillian:
Right. Because it, it kind of goes back to like you could plan your day but you know, in the dental office, like you never know either. Yeah, exactly. You could try and plan but it might not go as you planned. And you might have a patient cancel last minute or an emergency case and you just, I think having a good office camaraderie and like support system where you can joke and be playful like with your staff makes a huge difference for like those unknowns that come up during your day. Yeah, of course.
Diana:
And I think also what has helped us is we try to get together out of work as well because being in the office is one thing. But going out and actually losing up and getting to know somebody else a little bit more has really helped us come together a little bit more back here.
Jillian:
Yeah. I think that's a great point too. You get to know people outside of work, what their lives are actually like, what they maybe go through, what their family dynamics are and getting to know someone can make working with them easier, I guess. Makes sense.
Diana:
Yeah.
Jillian:
Yeah. Okay. That's awesome. Let's see. Is there a difference in pay, do you think with dental assistance from like a private practice to corporate or like a government clinic office?
Diana:
I do. Yeah. I've actually worked for both a couple private offices and I work for a couple corporation offices as well. Okay. And I do feel that private offices can offer a little bit more. If not they can kind of balance that out with benefits sometimes, you know, they're able to give a little bit more cuz maybe they don't have as much staff. As a corporate office, like you said here I have 10 girls, just 10 dental assistants cause we still have a front desk and we have providers and we have a call center. So, it's a little bit harder to give everybody the amount they want compared to a private office where maybe it's just one provider and they don't have to distribute that salary as much or stretch it out as much as a corporate office has to. 
Jillian:
Makes sense. What does downtime look like for them? Or is there like never any downtime? 
Diana:
Downtime does happen. It's rare, but it does happen. They already know. We do have a list back there. A reminder when you know there's downtime we have to take advantage because it doesn't happen very often. We have to make sure our rooms are stocked up. We have to make sure we're checking lab cases. We're checking the next day, pulling out lab cases for the next day. So we're not rushing at the last minute trying to find our cases. So they already know that we're supposed to clean the office, reorganize, and make it tidy. They do a great job. I go, I don't have to be behind my staff the whole time. They already know, okay, we're downtime, let's start organizing the composite tray. When we do get busy, we're not running in and out of our rooms cuz we don't have what we need.
Jillian:
Right. I like that idea of having that list. So, if there is a patient that cancels and they have an hour, they can look at the list and see what needs to be done.
Diana:
Yes.
Jillian:
Great. And then as far as cleaning, because we had talked about this, I think we may have tried to write some type of article or questionnaire for our dental assistants if they clean their office, like what that looks like. Are they cleaning the floors or like, do most offices do you think have a cleaning service for that? Or is it left up to the assistants?
Diana:
No, we do have a cleaning service. She comes three days out of the week. The rest is we have to do it. So we, it does involve, we wipe the whole room down. We broom, we draw garbage. We try to tidy up everything back there. We do try to mop every single day, especially because there's, there's, you know, stuff flying all over us. We do try to mop as much as we can and we have a lot of us, we do have a big office. It's a 10 top office, so we try to maintain everything clean even in between, not even at the end of the day in between patients. If, you know, if we're taking impressions and impression materials, you know, when you take it out there's stuff lying over it. We grab the broom and we clean out and have it as clean as we can for the next patient.
Jillian:
That's awesome. With assistants like doing all of that do you have, do you see any industry trends that are changing with dental assistants? I feel like you did touch on this with saying they're able to do a lot more than obviously like when you started when it was more like polishing and like chairside for the doctor, you're able to now help make like retainers or night guards. Do you see the future of dental assistants going up as far as responsibility and the more that they can do within like the app?
Diana:
Yeah, of course. Like I said, I have doctors here and like I said, it just depends on the state you're in. I know here in Illinois we're very restricted still. And hopefully it changes cuz they will open up a field and there're a lot of assistants out there that know how to do a lot of things they wanna learn to do a lot of things and we're very limited. Like I said cad/cam, scanning I know in some states they can let you, they don't let you drill but they let you fill and a lot of states let you cement permanent crowns that we're not allowed here. But I hope that in the future Illinois changes and allows us to do a lot of things and I do feel like this field can grow a lot and we can be a lot more useful than we already are in the office.
Jillian:
Yeah. I honestly didn't realize that the laws and rules depend on the state that you're in. Have you worked in a different state besides Illinois?
Diana:
I haven't, no. I do have a lot of providers that come from a lot of states. 
Jillian:
Okay, so lastly I just wanted to ask if you have any steps that a dental practice can take to ensure they are paying their dental assistance fairly while also obviously managing the budget they have to pay for their dental assistants.
Diana:
Yeah, I mean they just have to make sure you know, look at the minimum wage. They're looking at where their area is located because depending on the area, it also depends on how much an assistanе should be getting paid experience. You have to value the experience that assistants bring into your office. That knowledge that it can also help you out as well. You have to look into the benefits, what you're providing, if it's gonna be maybe you're not able to give that assistant what she wants, but you might be able to help her out with benefits that maybe another office might not be able to offer her. You have to look into your production, see if your production it wants, you've established and separated everything that you know you need to, your office wants to pay. If you're able to give that to assistants, like you said, her worth will be worth it. Yeah. You know, she is gonna be of value to your office at the end. She is gonna help you make money as well if she knows what she's doing. So that's something they have to take into consideration as well. You're just not paying somebody for their job but you're paying them for their knowledge and how they're gonna help you produce as well. And just make sure that the rest of your staff, you have more staff, they're helping you keep that cost down, they're working according to standard procedures established by the practice in order to avoid mis-usage of material as well. Resources and time to maximize the production of your office as well. I think that that's very important.
Jillian:
Yeah. Any other last minute advice you wanna give? Dental assistants? Good shoes for them to wear?
Diana:
I wear Converse. Yeah. I feel like and it's changed a lot too cause I remember I used to wear them when I first started and a lot of providers didn't allow that, but now I think it's, oh really? It's changed. It just works. Whatever you're comfortable with, wear it. So just try to wear anything comfortable and my advice to all the dental assistants would be don't stay stuck, you're in there not just assisting, you're in there to learn and help out and always try to be not only one step ahead of your provider, but two. Don't be afraid to ask your provider out the room, why did you do this? Or could have we done something else? I always try to learn something every single day from my provider or from the office, something new all the time just to help me get that step higher. The more you know the better and it's gonna help you out more in the future.
Jillian:
Absolutely. Great! Thank you so much for taking this time. I really appreciate it. And I'm sure our dental assistants who listen to this are going to appreciate it too. So thank you.
Diana:
Thank you. Thank you for having me!
Links:
ZenSupplies Youtube – https://www.youtube.com/channel/UC4I-NnQ8VfQ73hQS80gDB4Q
Linkedin Profile of Diana – https://www.linkedin.com/in/diana-arnaldo-7545951a3/
Linkedin profile of ZenSupplies – https://www.linkedin.com/company/zensupplies/mycompany/?viewAsMember=true
Back to Blog