Live Events Recap for the Week of June 29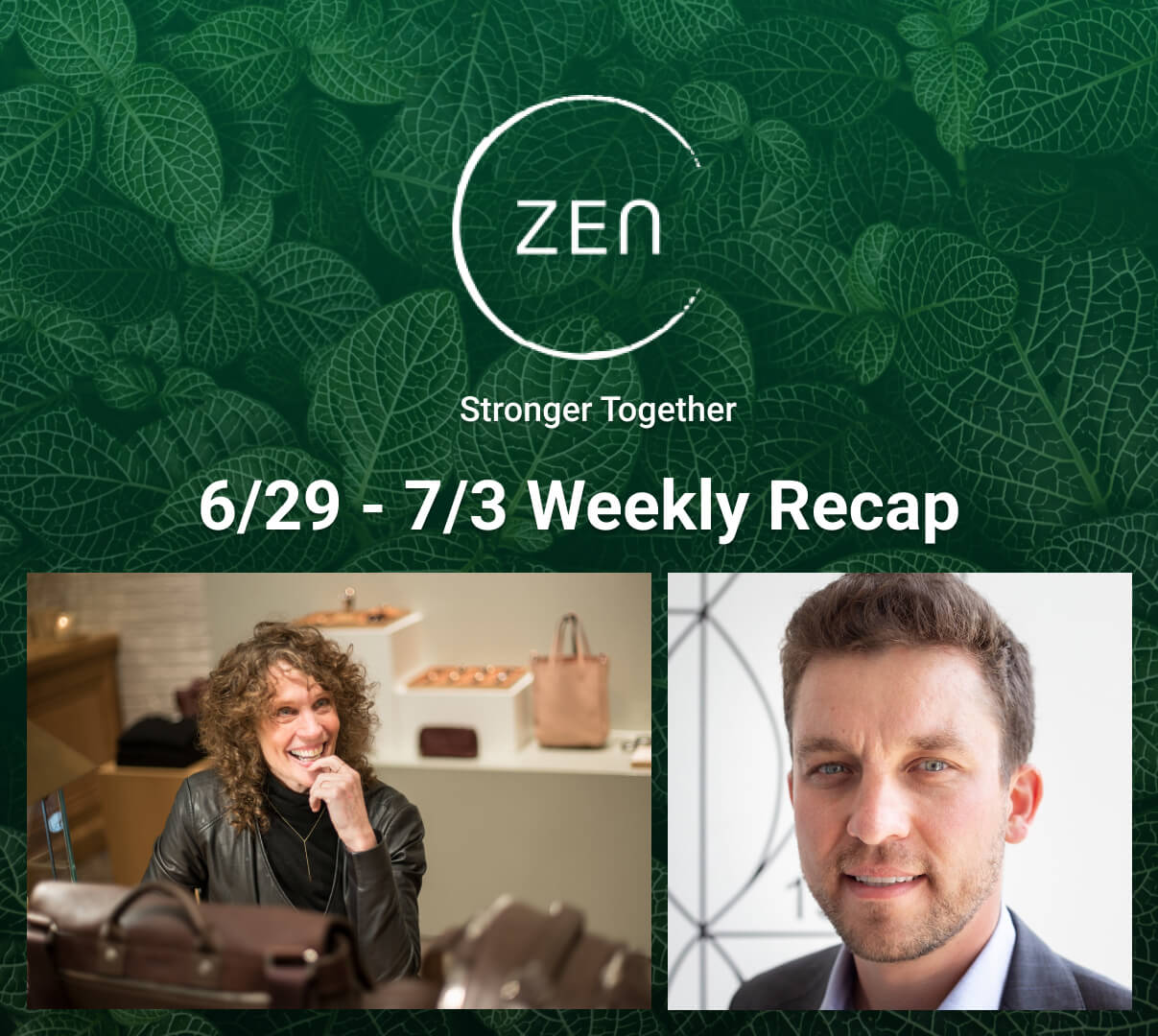 Dear ZenFamily,
Happy Monday to all! We hope everyone had a fun holiday weekend.  As we jump into another busy week, we'd like to share a recap of live events and webinars for last week (the week of June 29) as well as some exciting live events  that we have planned for the week of July 6. So here goes! On Wednesday, July 1st Tiger hosted a live event on the Importance of Supporting US Based Manufacturers with Jen Guarino, CEO of ISAIC. Since Independence Day was last weekend, we decided to host a webinar on the importance of supporting US based manufacturers. There are a lot of discussions on US made products. Some were surprised with "why we don't make masks anymore" and "Why US made PPE is as expensive as from outside of the US". These and many more questions Tiger addressed with Jennifer Guarino, CEO of ISAIC (Industrial Sewing and Innovation Center), a fashion non-profit that changed their direction to making Gowns and Masks during the pandemic.
Please check out ISAIC (Industrial Sewing and Innovation Center) here: www.isaic.org
Here is the full webinar:
And here is the podcast: https://share.transistor.fm/s/bd2dd1a1
Since the Friday supply availability event fell 7/3 on Independence Day (observed) this week, we will be hosting our next 15 minute supply availability live event on Friday, July 10.
---
For the week of July 6, we have planned the following events:
Thursday, July 9 at 11 am CST

Tiger will host a live event on

How to use the new search?

We listened to and noted all of the feedback from the 6/11 webinar and went to work. It is improved, it is smarter and hopefully easier to use. During this live webinar Tiger will share how to use the updated version of the search and reveal what we are working on next, as we call it "Search phase 2".  Please join us for this live discussion and we will be inviting attendees to join, so please make sure your mic and camera is working! This event is only for Zen members.
The benefit of the LIVE Webinar is that we will be able to answer YOUR questions during this time. So please join us at 11 am CST on Thursday 7/9! All you have to do is login to your Zen account, app.ZenSupplies.com
2. And of course, per our new Friday tradition, on Friday, July 10th at 11 am CST, Tiger will host a 15 Minute Supply Availability Update with a Special Guest. Everyone is beyond ready to get back to work in a safe environment. The ZenTeam is spending countless hours every week doing due diligence, learning about FDA approvals, learning about product shortages, and sourcing new vendors. In addition, the landscape of the supply chain is constantly changing and so are the prices of PPE products. Therefore, Tiger will host a 15 min live event EVERY Friday at 11 am CST to go over what we learn during the week. We will share EVERYTHING-good, bad and what to prepare for.Simply login to your ZenSupplies account and join us there for all live events!
Thank you to all for participating in our live events and we look forward to seeing everyone during this week's webinars!
Back to Blog